A special thank you to Pablo Rego and Musicas del Mundo for a great review! http://musicasdelmundo.com/?p=6037    You can also check out Pablo on his Blog as well:
http://anthropomusic.blogspot.ca/2016/12/cielo-nocturno-guitarra-latina-y-mucha.html?spref=fb
Translation below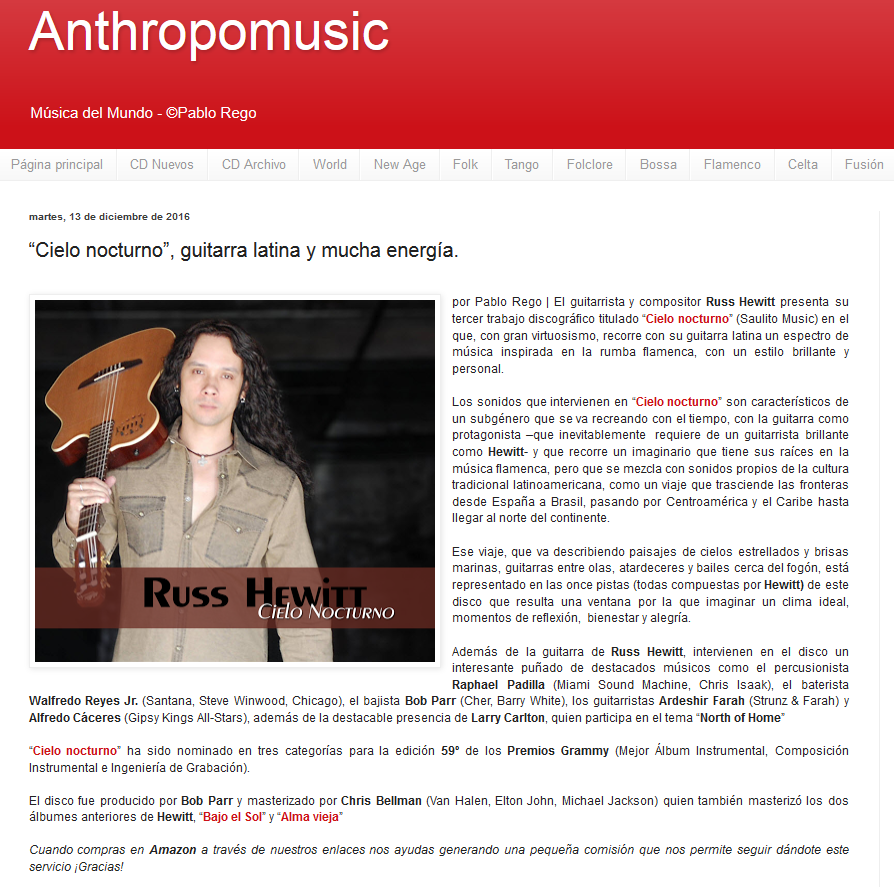 By Pablo Rego
Guitarist and composer Russ Hewitt presents his third album entitled "Night Sky"(saulito music) in which, with great virtuosity, creates with his Latin Guitar a spectrum of music inspired by Flamenco Rumba, with a brilliant and personal style.
The sounds that intervene in "Night Sky" are characteristic of a subgenre that recreates itself over time, with the guitar as the protagonist- that inevitably requires a brilliant guitarist like Hewitt- producing an image of Flamenco roots in the music, mixed with sounds typical of Latin American Culture, in a journey that transcends the borders from Spain to Brazil passing through Central America and the Caribbean reaching the north of the continent.
This journey, which describes landscapes of starry skies and sea breezes, guitars between waves, and sunsets and dances near the hearth, is represented on the eleven tracks (all composed by Hewitt) of this disc which is a window by which to imagine an ideal mood, moments of reflection, well-being and joy.
In addition to the guitar of Russ Hewitt, an interesting handful of outstanding musicians such as percussionist Raphael Padilla (Miami Sound Machine, Chris Isaak), drummer Walfredo Reyes Jr. (Santana, Steve Winwood, Chicago), bassist Bob Parr (Cher, Barry White), guitarists Ardeshir Farah and Alfredo Cáceres (Gipsy Kings All-Stars), as well as the notable presence of Larry Carlton, who participates in the theme "North of Home"
"Night Sky" has been nominated in three categories for the 59th Grammy Awards (Best Instrumental Album, Instrumental Composition and Recording Engineering).
The album was produced by Bob Parr and mastered by Chris Bellman (Van Halen, Elton John, Michael Jackson) who also mastered Hewitt's two previous albums, "Under the Sun" and "Old Soul"
When you buy at Amazon through our links you help us by generating a small commission that allows us to continue giving you this service Thank you!