Review and interview from the Italian guitar magazine Guitar Club in the January 2017 David Gilmour issue.           http://www.guitarclubmagazine.com/read-hps5a-russ-hewitt-cielo-nocturno.html
Transcription below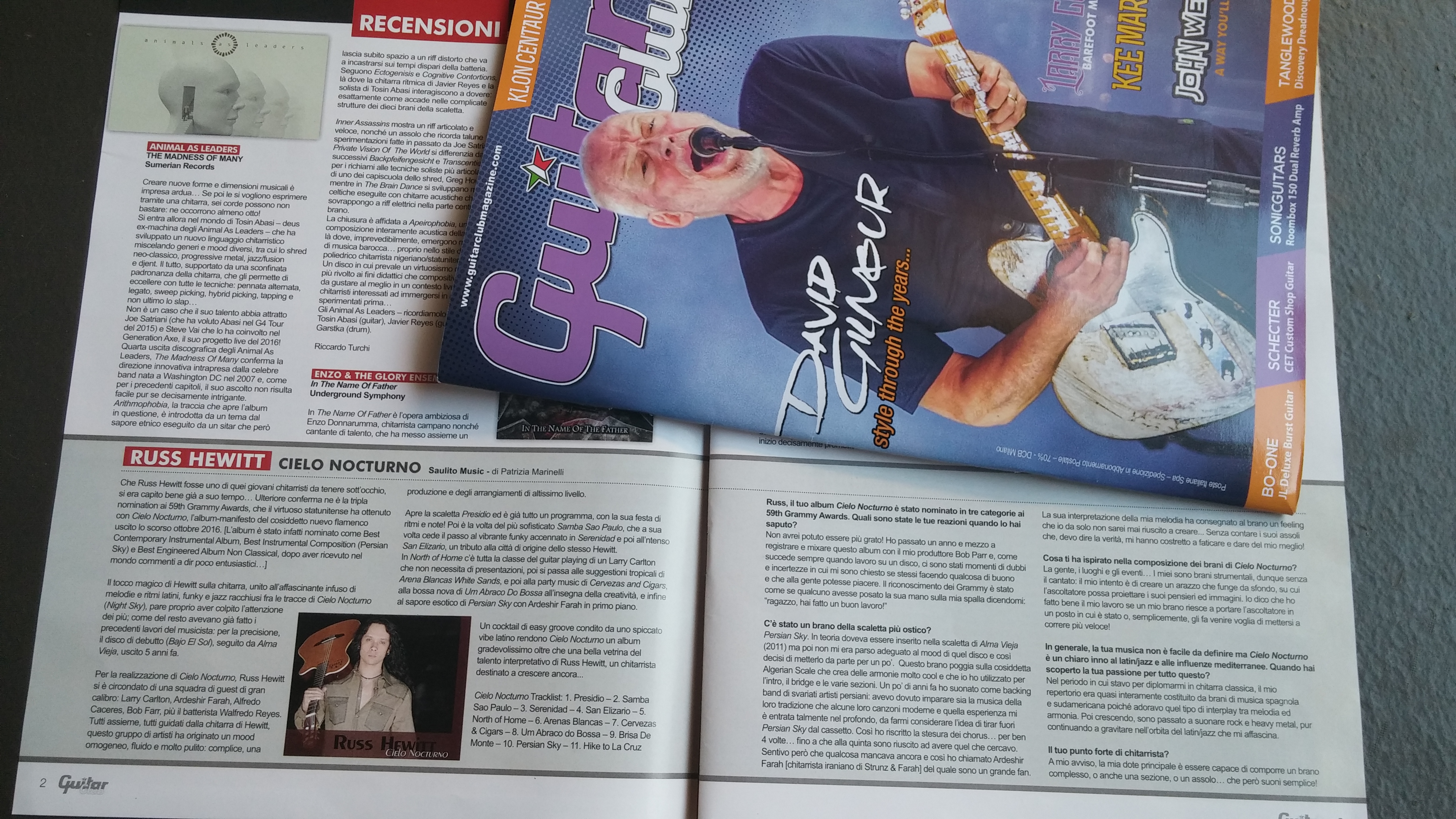 Russ Hewitt is one of those young guitarists to keep an eye out for and we understood this at the right moment. It further confirms he earned a triple nomination at the 59th Grammy Awards with his Album Cielo Nocturno which was released last October 2016. In fact, his album was nominated for Best Contemporary Instrumental Album, Best Instrumental Composition and Best Engineered Album non-classical, after receiving nothing short of enthusiastic comments around the world.
The magic touch of Hewitt on the guitar, joined the fascinating infusions of melodies and Latin rhythms, funk and jazz can all be found in Cielo Nocturno. It seems to have gotten more attention, than the musician's earlier work; to be precise, the debut album Bajo El Sol, followed by Alma Vieja, which came out 5 years ago.
For the realization of Cielo Nocturno, Russ Hewitt was surrounded by a guest team of great caliber: Larry Carlton, Ardeshir Farah, Alfredo Caceres, Bob Farr, including the drummer Walfredo Reyes. All together, all driven by Hewitt's guitar, this group of artists have originated a consistent mood, smooth and very clean: accomplice, a production and arrangements of the highest level.
He opens the lineup with Presidio and it's already a program with its feast of rhythms and notes. Then it's the most sophisticated Samba Sao Paulo, which in turn gives way to vibrant funky mentioned in Serenidad and then the intense San Elizario, a tribute to Hewitt's city of origin.
In North of Home, there's a whole class of guitar playing including Larry Carlton who needs no introduction, then you pass to the tropical charm of Arena Blancas White Sands, and then the party music of Cervezas and Cigars, the bossa nova of Um Abraco Do Bossa in the name of creativity, and finally the exotic taste of Persian Sky with Ardeshir Farah close up.
A cocktail of easy groove combined with a strong latin vibe, you get Cielo Nocturno, an album pleasant as well as a beautiful showcase of the interpretive talents of Russ Hewitt, a guitarist who is destined to continue to grow.
Cielo Nocturno Tracklist: 1. Presidio – 2. Samba Sao Paulo – 3. Serenidad – 4. San Elizario – 5. North of Home – 6. Arenas Blancas – 7. Cervezas & Cigars – 8. Um Abraco do Bossa – 9. Brisa De Monte – 10. Persian Sky – 11. Hike to La Cruz
Russ, your album Cielo Nocturno was nominated in three categories at the 59th Grammy Awards. What were your three initial reactions when you found out?
I couldn't be more grateful. I spent a year and a half recording and mixing the album with my producer Bob Parr and, as always when you work on an album, there have been moments of doubt and uncertainty in which I've wondered if I was doing something good and if people would like it. The recognition of the Grammy's was as if someone had laid their hand on my shoulder and said: Boy, you did a good job!
Was there a song that was the most difficult?
Persian Sky. It was supposed to be included in the lineup of Alma Vieja (2011) but I felt it did not flow with the mood of that record and so I decided to set it aside for a while. This song is based on the so-called Algerian Scale that creates very cool harmonies which I used for the intro, the bridge and other various sections. A few years ago, I played as a backing band for several Persian artists: I had to learn both their traditional music and some modern songs and that experience made me consider to take out Persian Sky from my drawer. I rewrote the drafting of the chorus… at least 4 times… until the fifth I managed to get what I was looking for. I felt like there was something missing so I called Ardeshir Farah (Iranian guitarist Strunz & Farah) of which I am a huge fan. His interpretation of my melody gave the song a feeling that I alone would never have been able to create… not to mention his solos which, I must tell the truth, forced me to work hard and give it my best!
What inspired you in the composition of the songs of Cielo Nocturno?
The people, places and the events… my songs are instrumental pieces, therefore without singing: my intent is to create a tapestry that serves as a background, of which listeners can project their own thoughts and images. I would say that I did my job well if my song manages to bring the listener to a place in which they have been or simply, making them want to start running faster!
Generally, your music is not easy to define but Cielo Nocturno is a clear ode to latin/jazz and the Mediterranean influences. When did you discover your passion for all this?
In the period when I was about to graduate in classical guitar, my repertoire was almost entirely made up of Spanish and South American music songs because I have always loved that kind of interplay between melody and harmony. Then growing up, I switched to playing rock and heavy metal, but I continued to gravitate to the orbit of the Latin/jazz which has always fascinated me.
Your strong point of guitarist?
In my opinion, my main gift is to be able to compose a song or even a section or a solo … but that sounds simple!