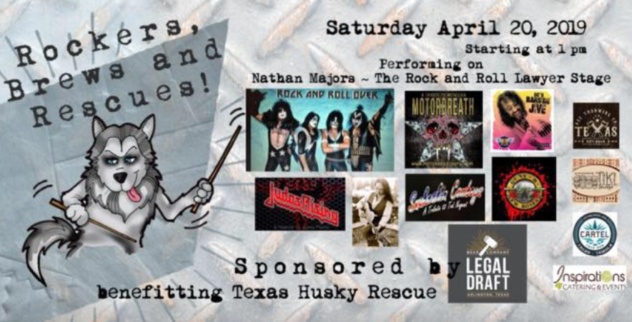 Thrilled to be part of the Rockers, Brews and Rescues event benefiting the Texas Husky Rescue on April 20th. They are an incredible organization who's volunteers have a heart of gold, two of my Huskies come from them. I would save them all if I could but because I can't, I love playing events like this to help raise awareness. I will be playing throughout the day, no definitive set times. Here's the rundown starting a 1pm:
Hosted at Legal Draft Beer Co. (Address: 500 E Division St, Arlington, TX 76011) Emceed by Barside Jive's Darrell Chumley. Come rock with Snakeskin Cowboys – A Tribute to Ted Nugent, GnFnR – a Guns and Roses Tribute Band, Judas Rising – Judas Priest Premier tribute band, MotorbreatH DFW – Metallica Tribute, and the Ultimate KISS Tribute band – Rock and Roll Over!
4 Kahunas Tiki Lounge, Inspiration Catering and Events, Texas Axe Throwing Co, and Cartel Taco Bar will also be there.
Legal Draft Beer Co. · Arlington, Texas
Address: 500 E Division St, Arlington, TX 76011
Phone: (817) 962-2210
Menu: legaldraftbeer.com