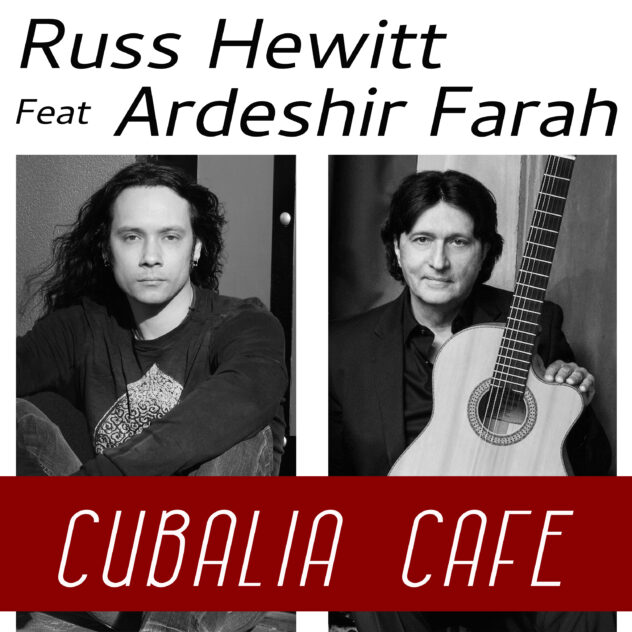 I'm excited to announce the release of my new single, 'Cubalia Café', on all platforms. Links below to listen or purchase:
Recorded and produced by Bob Parr at Savannah Street Studios. Based on a Cuban guajira groove, 'Cubalia Café' features guitarist and guest soloist Ardeshir Farah from the Grammy-nominated group, Strunz & Farah. His virtuosity can be heard in the second verse and second acoustic guitar solo.
Ardeshir was so excited about the song, he held a six-month contest in his home country of Iran, challenging musicians to play his solo section. The contest went viral, receiving a large number of videos from all parts of Iran via WhatsApp and Instagram.
Due to so many incredible entries, Ardeshir decided to do a Top 10 instead of 1st, 2nd and 3rd place winners and enlisted the help of four of the top guitarists in Iran to help him judge the contestants, his vote ultimately determining the final selection. Winners were not only given a cash award but were recognized by thousands on Instagram. The influence of Strunz & Farah cannot be overstated enough in the guitar community, the contest being a small example.
The other incredible musicians on this track include drummer Walfredo Reyes Jr.(Santana, Steve Winwood, Chicago); bassist Bob Parr (Cher, Brian Setzer Orchestra, Barry White); percussionist Raphael Padilla (Miami Sound Machine, Shakira, Gloria Estefan); and percussionist Efren Guzman Mejia(Alejandro Fernandez, Arnandi Mamzanero, Andrea Bocelli).
A special thank you to:
Mark Markel & Shari Markel at Analysis Plus Pro Audio (Black Oval); Vinni Smith at V-Picks Guitar Picks (Lite medium gauge); David Sestito at DLS Effects (RotoSIM); Nick Gutierrez at BBF Custom Pedalboards; Paul Shedden & James Lebihan at Mission Engineering, Inc.; Brian Neunaber at Neunaber Audio (Immerse pedal); Peter Janis & Jim Rhodes at Radial Engineering Ltd. (ToneBone PZ-Pre) and Primacoustic (Broadway Panel); Simon Godin, Fred Di Santo, Mario Biferal i& Armando Vega at Godin Guitars (OFFICIAL) (Grand Concert Duet); Bill Wenzloff at
Morley/Ebtech (Volume Pedal & HumX); John Clark at Voodoo Lab (Power Pedal 2 Plus); D'Addario and Co. (T2 strings); TC Electronic (Flashback); Electro-Harmonix (Black Finger)