Getting some love from Indonesia for the upcoming release of CHASING HORIZONS this Friday. Here is the link: W

artajazz/RussHewittCHASINGHORIZONS
*Translation Below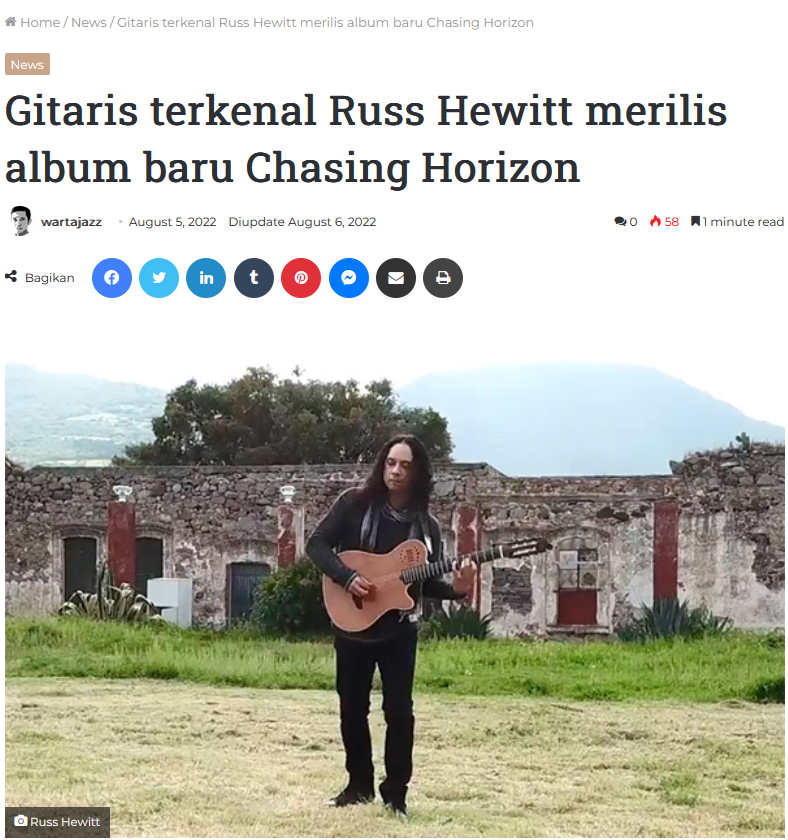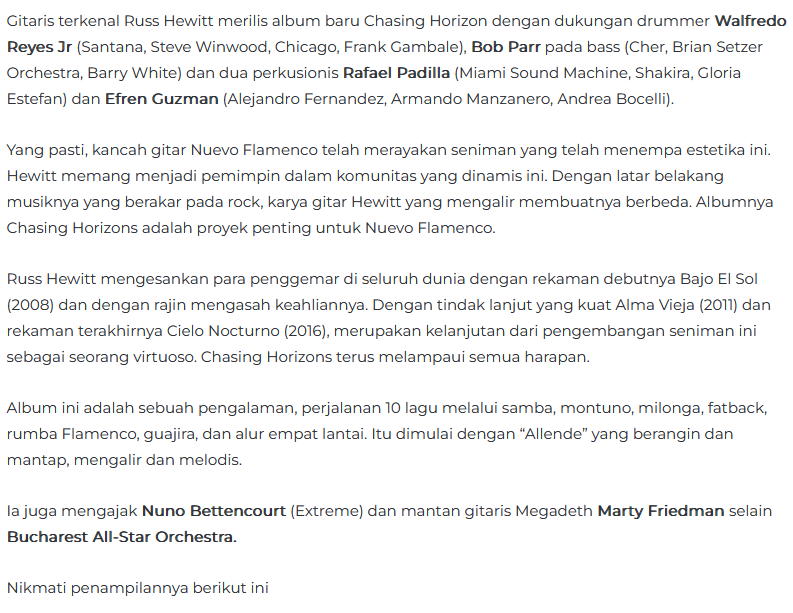 Renowned guitarist Russ Hewitt released a new album Chasing Horizon with the support of drummer Walfredo Reyes Jr (Santana, Steve Winwood, Chicago, Frank Gambale), Bob Parr on bass (Cher, Brian Setzer Orchestra, Barry White) and two percussionists Rafael Padilla (Miami Sound Machine, Shakira, Gloria Estefan) and Efren Guzman (Alejandro Fernandez, Armando Manzanero, Andrea Bocelli).
To be sure, the Nuevo Flamenco guitar scene has celebrated the artists who have forged this aesthetic. Hewitt is indeed a leader in this dynamic community. With his musical background rooted in rock, Hewitt's fluid guitar work sets him apart. His album Chasing Horizons was an important project for Nuevo Flamenco.
Russ Hewitt impressed fans around the world with his debut recording Bajo El Sol (2008) and diligently honed his craft. With a strong follow-up to Alma Vieja (2011) and his latest recording Cielo Nocturno (2016), it is a continuation of this artist's development as a virtuoso. Chasing Horizons continues to exceed all expectations.
This album is an experience, a 10 track journey through samba, montuno, milonga, fatback, Flamenco rumba, guajira, and four-story grooves. It starts with "Allende" which is breezy and steady, flowing and melodic.
He also invited Nuno Bettencourt (Extreme) and former Megadeth guitarist Marty Friedman in addition to the Bucharest All-Star Orchestra.
Enjoy the following performance