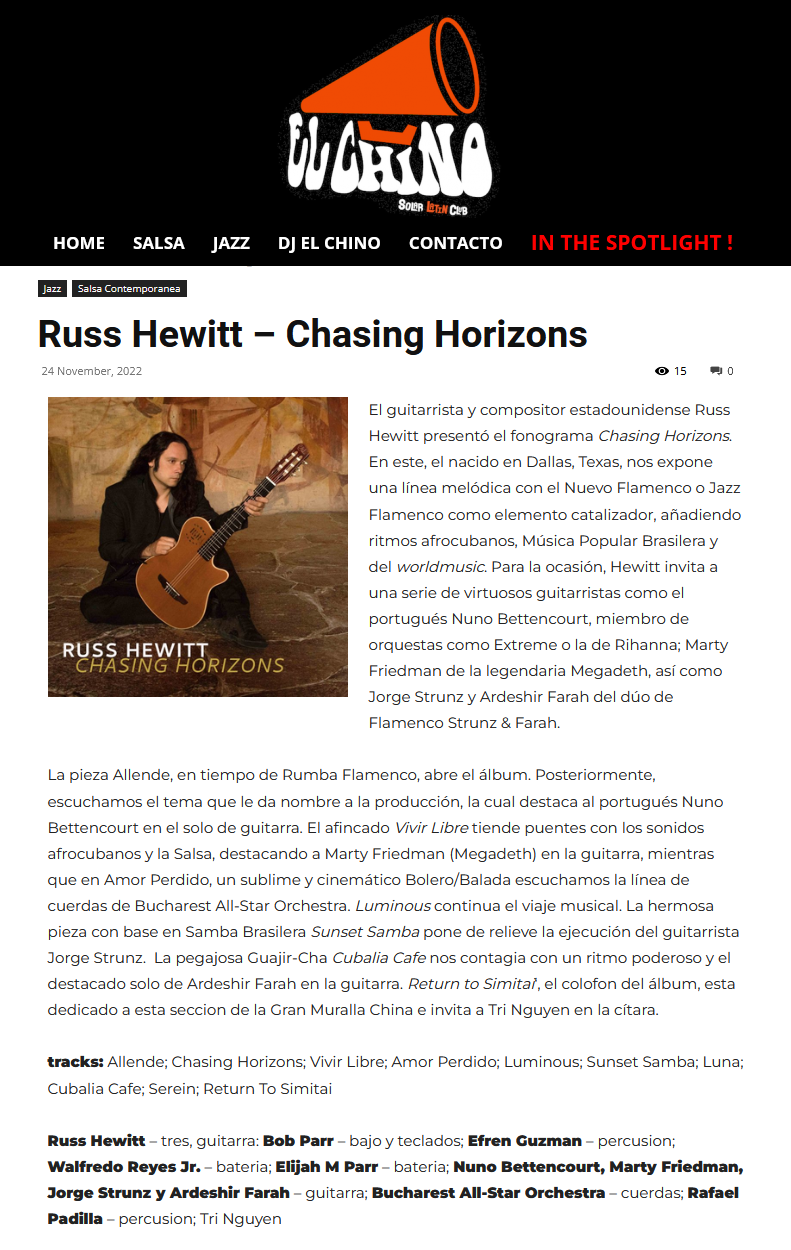 American guitarist and composer Russ Hewitt presented
the phonogram Chasing Horizons. In it, the Dallas, Texas
born Hewitt presents a melodic line with New Flamenco
as a catalyzing element, adding Afro-Cuban rhythms,
Brazilian popular music and World Music. For the
occasion, Hewitt invites a series of virtuoso guitarists
such as the Portuguese Nuno Bettencourt, member of
bands such as Extreme and Rihanna; Marty Friedman
of the legendary Megadeth, as well as Jorge Strunz and
Ardeshir Farah of the flamenco duo Strunz & Farah.
The piece Allende, in Rumba-Flamenco time, opens the
album. Subsequently, we hear the title track, which
highlights the Portuguese Nuno Bettencourt on the guitar
solo. Vivir Libre bridges the gap to Afro-Cuban sounds
and salsa, featuring Marty Friedman (Megadeth) on
guitar, while on Amor Perdido, a sublime and cinematic
Bolero/Balada, we hear the string line of the Bucharest
All-Star Orchestra.
Luminous continues the musical journey. The beautiful
Brazilian Samba-based piece Sunset Samba highlights the
playing of guitarist Jorge Strunz. The catchy Guajir-Cha
Cubalia Cafe infects us with a powerful rhythm and
Ardeshir Farah's outstanding guitar solo. Return to Sinitai,
the climax of the album, is dedicated to this section of
the Great Wall of China while invites Tri Nguyen on zither.