I am beyond excited to announce that I made the cover, featured, and CD review for CUTAWAY GUITAR MAGAZINE from Spain! Here is a link to the original post: https://www.cutawayguitarmagazine.com/revistas/revista-numero-92/  
Below is a transcription of the feature.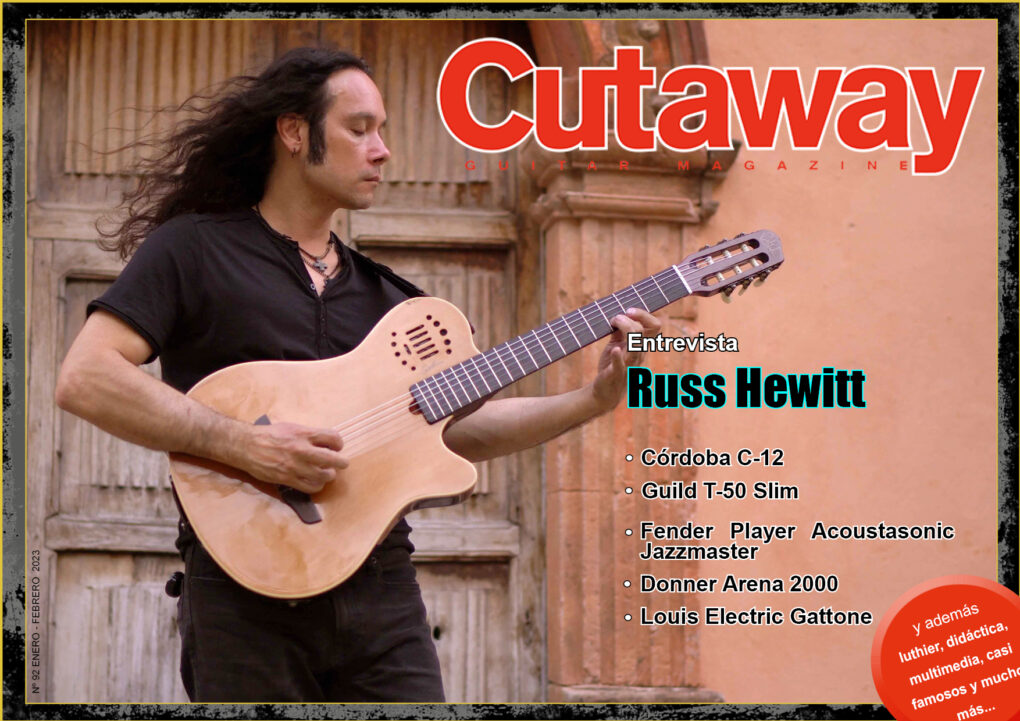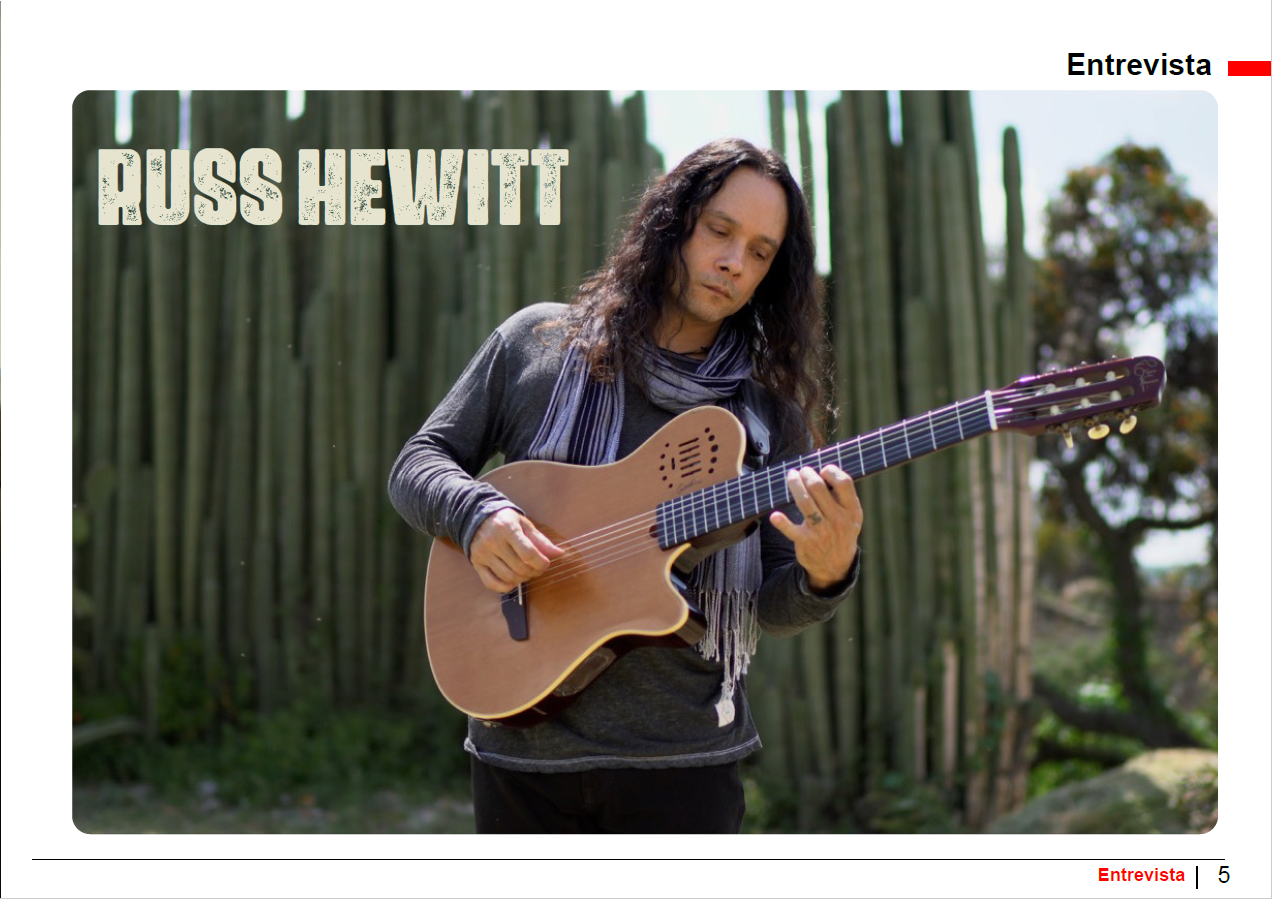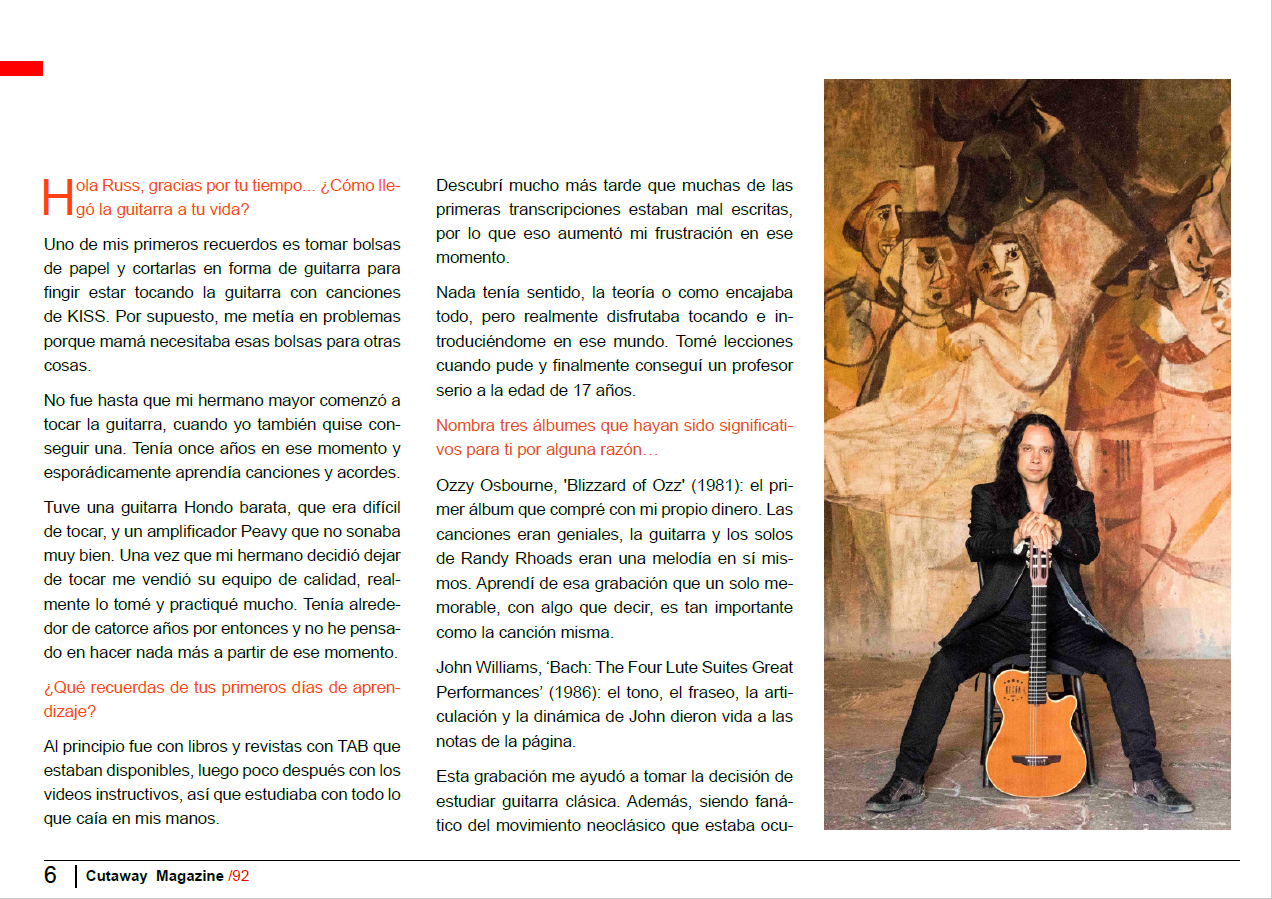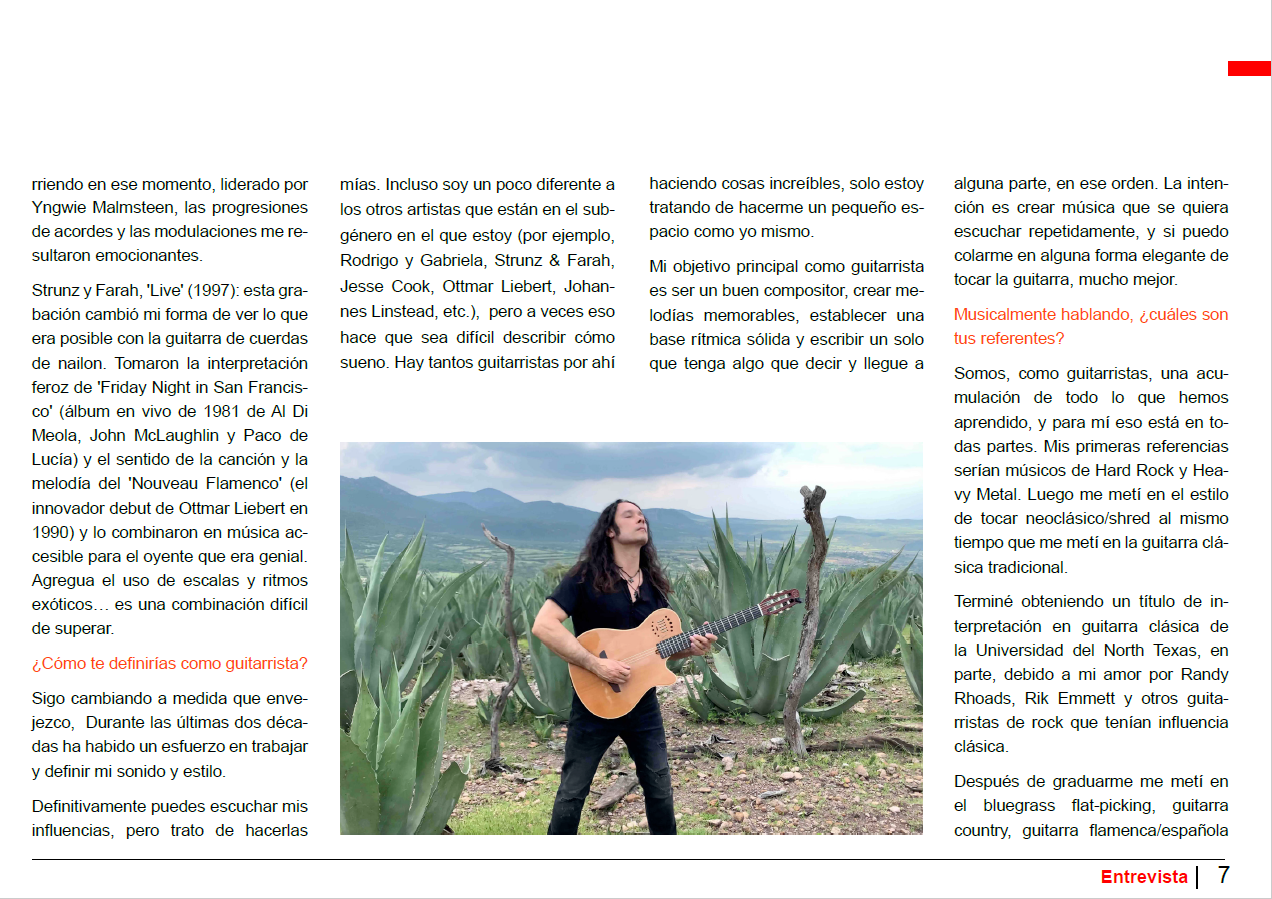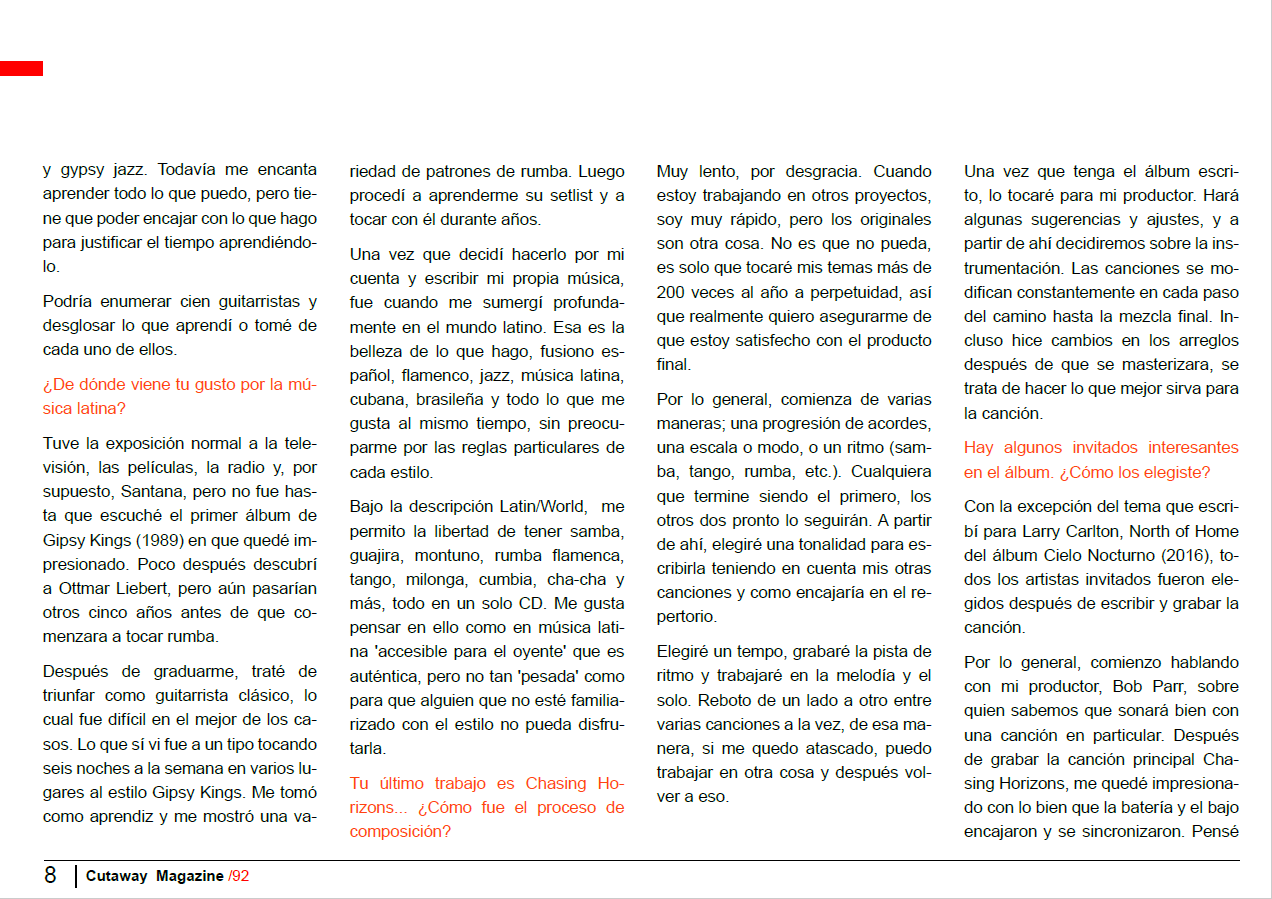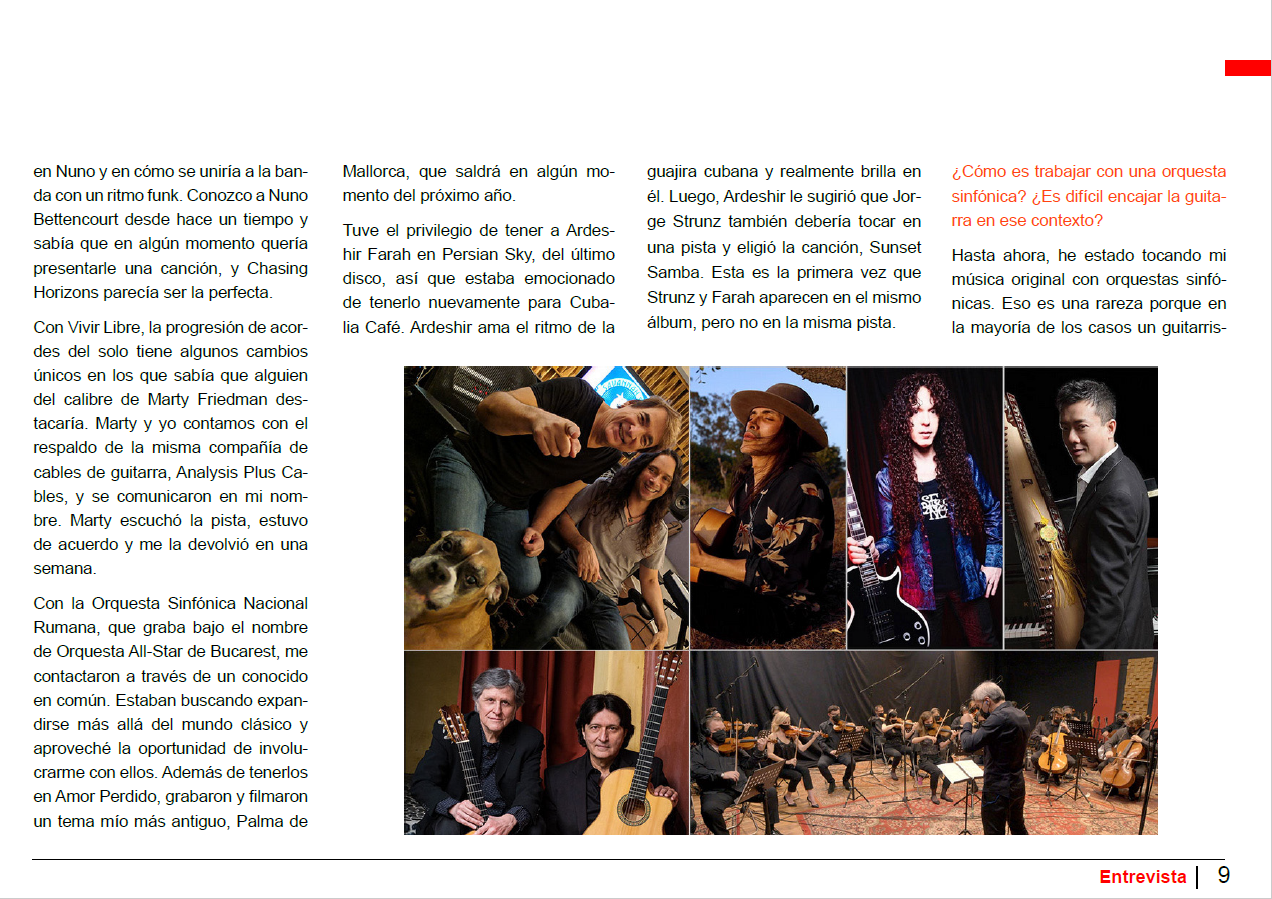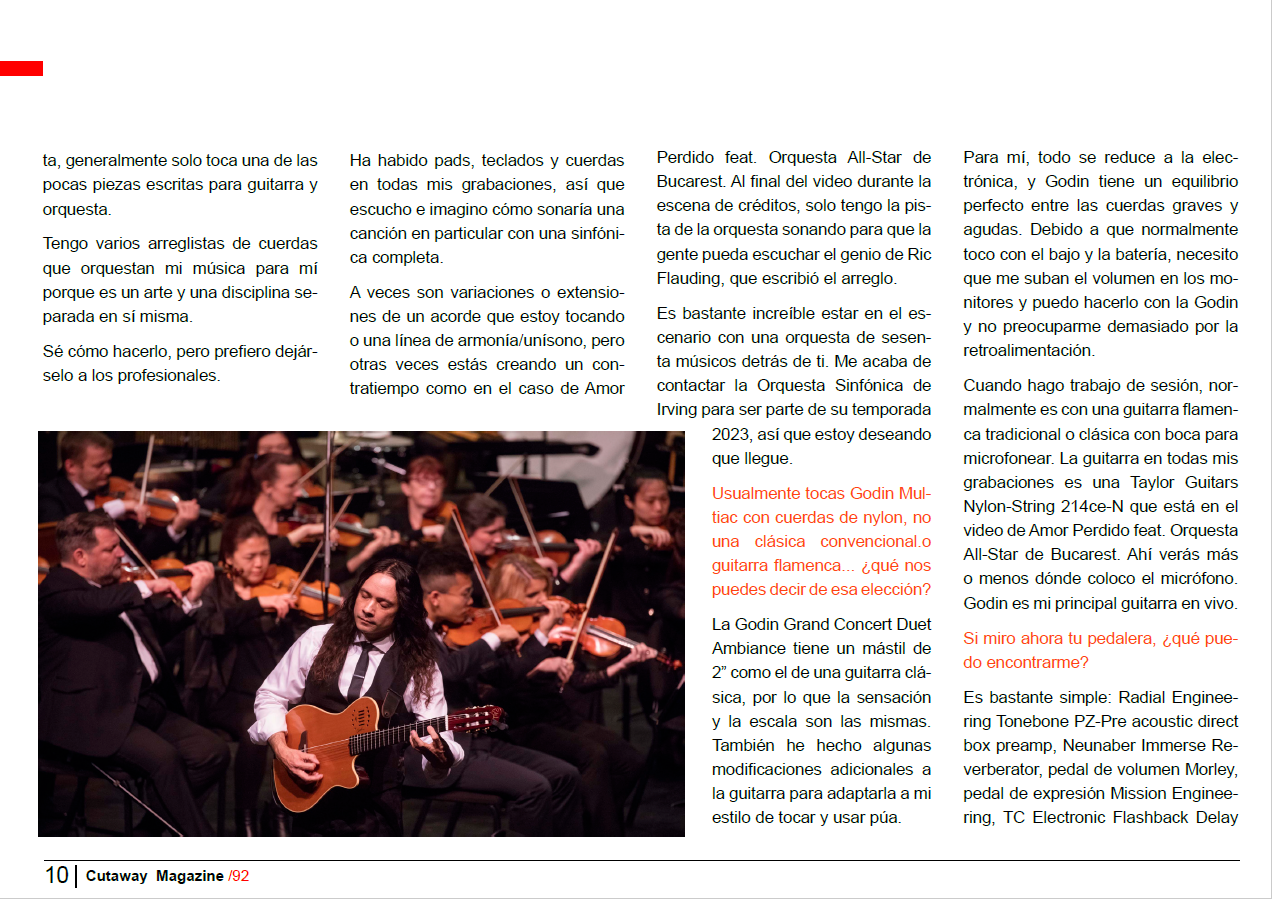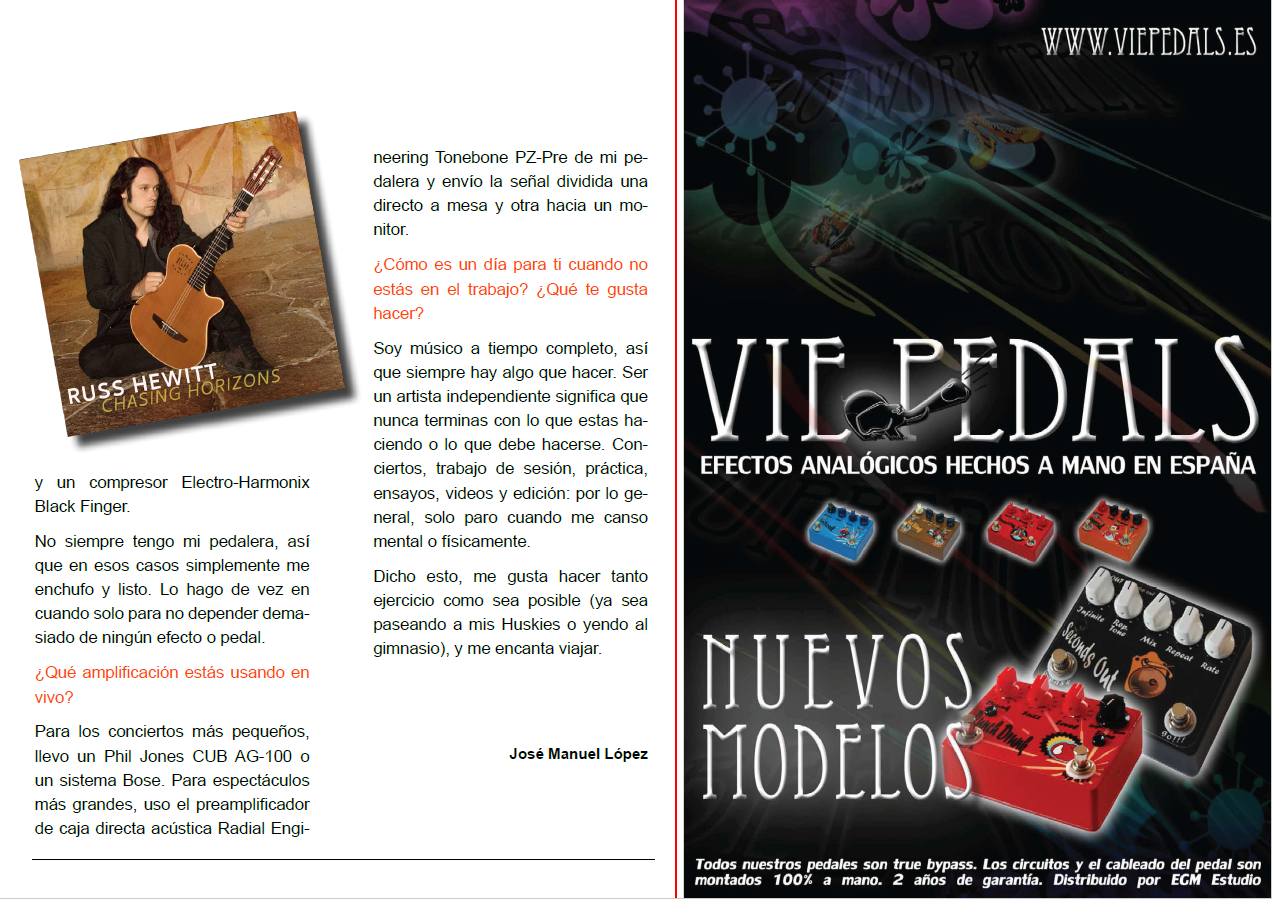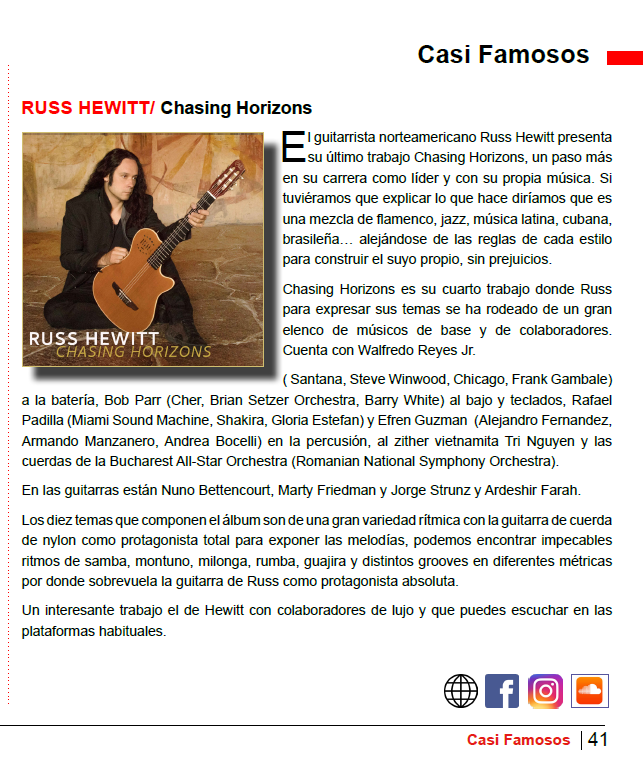 INTERVIEW TRANSCRIPTION
RUSS HEWITT INTERVIEW
Hello Russ, thanks for your time…How did the guitar come into your life?
One of my earliest memories is taking our paper grocery bags and cutting them into a guitar shape to pretend I'm playing the guitar to KISS songs. Of course, I would get into trouble because mom needed those bags for other things. Ha! It wasn't until my older brother started playing guitar, that I too, had to get one as well. I was eleven at the time and sporadically learned partial songs and chords. I had a cheap Hondo guitar, which was hard to play, and a Peavy amp which didn't sound very good. Once my brother decided to stop playing and then sold me his high-quality gear, I really took to it and practiced a lot. I was around the age of fourteen by then and hadn't thought of doing anything else from that moment on.
What do you remember from your first days of learning?
It was just at the start of when TAB books and magazines became readily available, then soon after instructional videos, so whatever I could get my hands on would be what I happened to learn. Come to find out much later that a lot of the early transcriptions were notated wrong, so that added to my frustration at the time without knowing it. Ha! Nothing made sense about theory or how everything fit together, but really enjoyed playing and getting lost in that world. I took lessons when I could and finally got a serious teacher at the age of 17.
Tell us three albums that have been meaningful to you for some reason …
1) Ozzy Osbourne 'Blizzard of Ozz' (1981) – The first album I ever purchased with my own money. The songs were great, the guitar playing and solos from Randy Rhoads were a melody unto themselves. I learned from that recording that a memorable solo with something to say is as important as the song itself.
2) John Williams 'Bach: The Four Lute Suites Great Performances' (1986) – John's tone, phrasing, articulation, and dynamics brought to life the notes on the page. This recording helped me make the decision to study classical guitar. Also being a fan of the neoclassical movement that was happening at the time, led by Yngwie Malmsteen, the chord progressions and modulations were exciting to me.
3) Strunz and Farah 'Live' (1997) – This recording changed how I viewed what was possible with the nylon string guitar. They took the fiery playing from 'Friday Night in San Francisco' (1981 live album by Al Di Meola, John McLaughlin, and Paco de Lucía) and the song and melody sense of 'Nouveau Flamenco' (Ottmar Liebert's groundbreaking 1990 debut) and combined it into listener accessible music that was genius. Add in their use of exotic scales and rhythms, it was a combination hard to beat.
How would you define yourself as a guitar player?
It keeps changing as I get older, Ha! Over the last couple of decades there's been a concerted effort to work on and define my sound and style. You can definitely hear my influences, but I try and make them my own.  I'm even a little different from the other artists that are in the sub-genre that I'm in (e.g., Rodrigo y Gabriela, Strunz & Farah, Jesse Cook, Ottmar Liebert, Johannes Linstead, etc.), which is a good thing, but sometimes makes it hard to describe what I sound like. There are so many guitar players out there doing incredible things, I'm just trying to carve out a little space that is me. My main goal as a guitar player is to be a great songwriter, create memorable melodies, establish a solid rhythmic foundation, and write a solo that has something to say and goes somewhere – in that order. The intent is to create music that would want to listen to on repeat, and if I can sneak in some fancy guitar playing, all the better.
Musically speaking, which are your references?
We are, as players, an accumulation of everything we've ever learned – and for me it's all over the place. My first references would be hard Rock and Heavy Metal players and music. I then got into the neo-classical/shred type of playing at the same time I got into traditional classical guitar. I ended up getting a performance degree in classical guitar from the University of North Texas, in part, because of my love for Randy Rhoads, Rik Emmett and other rock guitarists that had the classical influence. After graduation I got into bluegrass flat-picking, country guitar, flamenco/Spanish guitar and gypsy jazz. I still love to learn everything I can, but it has to be able to fit in with what I do in order to justify the time learning it. I could list a hundred guitar players and breakdown what I've learned or taken from them.
Where does your taste for Latin music come from?
I had the normal exposure from TV, movies, radio, and of course Santana, but it wasn't until I heard the first Gipsy Kings album (1989) that I was blown away. Soon after I discovered Ottmar Liebert, but it would still be another five years before I would start to play the rumba style. After I graduated with my degree, I tried to make it as a gigging classical guitarist, which was difficult at best. What I did see was a guy playing six nights a week at various spots playing the Gipsy Kings style. He took me on as an apprentice and showed me a variety of rumba patterns. I then proceeded to learn his setlist and play with him for years. Once I decided to go at it on my own and write my own music, is when I did the deep dive into the Latin world. That's the beauty with what I do, I'm fusing Spanish, flamenco, jazz, Latin, Cuban, Brazilian, and anything else I like together simultaneously without worrying about what particular rules go with each style. Under the Latin/World description, that allows me the freedom to have a samba, guajira, montuno, rumba flamenco, tango, milonga, cumbia, cha-cha, and more all in one CD. I like to think of it as 'listener accessible' Latin music that's authentic, but not so 'heavy' that someone who's unfamiliar with the style couldn't enjoy.
Your last work is Chasing Horizons… How was the songwriting process?
Very slow, unfortunately. Ha! When I'm working on other projects, I'm really quick, but originals are another thing altogether. It's not that I can't, it just I'll be playing my originals 200 plus times a year in perpetuity – so I really want to make sure I'm happy with the final product.  It usually starts one of several ways; a chord progression, a scale or mode, or a rhythm (samba, tango, rumba, etc.). Whichever one ends up being first, the other two are soon to follow. From there I'll pick a key to write it in taking into consideration my other songs and how it would fit into a setlist. I'll pick a tempo, record the rhythm track and work on the melody and solo. I bounce back and forth between several songs at once, that way if I get stuck, I can just work on something else and come back to it. Once I have the album written, I'll play it for my producer. He'll make some suggestions and tweaks, and from there we'll decide on the instrumentation. The songs will constantly be tweaked through each step of the way up to the final mix. I've even made arrangement changes after it's been mastered, it's all about what serves the song the best.
There are some interesting guests on the album. How did you choose them?
With the exception of the song I wrote for Larry Carlton, North of Home from the album Cielo Nocturno (2016), all of the guest artists were chosen after the song was written and recorded. It usually starts with sitting around and talking to my producer, Bob Parr, on who we know that would sound good over any particular song. After recording the title track Chasing Horizons, I was blown away on how well the drums and bass locked-in and grooved. I thought of Nuno and how he would lock-in with his band over a funk groove. I've known Nuno Bettencourt for a while now and knew at some point I wanted to present him a song, and Chasing Horizons seemed to be the perfect one. With Vivir Libre, the solo chord progression has some unique changes in it that I knew someone of Marty Friedman's caliber would excel at. Marty and I are endorsed by the same guitar cable company, Analysis Plus Cables, and they reached out on my behalf. Marty heard the track, agreed, and had it back to me within a week. For the Romanian National Symphony Orchestra, who record under the name Bucharest All-Star Orchestra, I was contacted through a mutual acquaintance. They were looking to expand beyond the classical world and I jumped at the chance to be involved with them. In addition to having them on Amor Perdido, they recorded and filmed an older song of mine, Palma de Mallorca, to be released sometime next year. I had the privilege of having Ardeshir Farah on the barnburner Persian Sky, from the last album, so I was thrilled to get him again for Cubalia Café. Ardeshir loved the Cuban guajira rhythm, and really shines on it. Ardeshir then suggested to Jorge Strunz that he should play on a track as well and he chose the song, Sunset Samba. This marks the first time Strunz and Farah has appeared on the same album, but not on the same track.
What is it like to work with a symphony orchestra? Is it difficult to fit the guitar in that context?
So far, I've been playing my original music with the symphony orchestras. That's a rarity because in most cases, for a guitar player, you're usually stuck playing one of just a handful of pieces written for the guitar and orchestra. I have several string arrangers that orchestrate my music for me because that's an art and separate discipline all to its own. I know how to do it, but would prefer leaving it to the professionals. Ha. There have been pads, keyboards, and strings on all of my recordings, so I hear and imagine what any particular song might sound like with a full symphony. Sometimes it's variations or extentions to a chord I'm playing or a harmony/unison line, but other times it's creating a counter melody like in the case of Amor Perdido feat. Bucharest All-Star Orchestra. At the end of the video during the credit scene, I have just the orchestra track playing just so people can hear the genius of Ric Flauding who wrote the arrangement. It is pretty incredible being on stage with a sixty-piece orchestra behind you. I was just contacted by the Irving Symphony Orchestra to be part of their 2023 season, so I'm really looking forward to that.
You usually play Godin Multiac with nylon strings, not conventional classical or flamenco guitar… what can you tell us about that choice?
The Godin Grand Concert Duet Ambiance has a 2" neck like a classical guitar, so the feel and scale is the same. I have done some additional modifications to the guitar as well to adjust to my playing style and using a pick. For me, it comes down to the electronics, and Godin has a perfect balance between the bass and treble strings. Because I'm usually playing with bass and drums, I need to be turned up loud in the monitors and I can do that with the Godin guitar and not worry too much about feedback. When I do session work, it's usually with a traditional flamenco or classical guitar with a sound hole in order to mic it. The guitar on all of my recordings is a Taylor Guitars Nylon-String 214ce-N which is in the video for Amor Perdido feat. Bucharest All-Star Orchestra. There you'll see roughly where I place the mic. Godin is my main live guitar.
If I look now at your pedalboard, what would I find?
It's pretty simple: Radial Engineering Tonebone PZ-Pre acoustic direct box preamp, Neunaber Immerse Reverberator, Morley volume pedal, Mission Engineering Expression Pedal, TC Electronic Flashback Delay, and an Electro-Harmonix Black Finger Compressor. I don't always have my pedalboard, so in those cases I just plug-in and go. I'll do that on occasion just so I don't get too reliant on any one effect or pedal.
Which amplification are you using in live?
For my smaller gigs, I'll use a Phil Jones CUB AG-100 or a Bose system. For bigger shows, I use the Radial Engineering Tonebone PZ-Pre acoustic direct box preamp out of my pedalboard and do a line out to the house and another to a monitor.
What is a day like for you when you are not at work? What do you like to do?
I'm a full-time musician, so there is always something to do. Being an independent artist means it just never ends on what you could be doing or what needs to get done. Gigs, session work, practice, rehearsals, videos and editing – I usually just go until I get mentally or physically tired. Having said that, I like to exercise as much as possible (either walking my Huskies or going to the gym), and I love to travel.